Solutions to aid transport, buffering, picking and distribution of goods
Getting your products to market on time and at a competitive price is becoming increasingly challenging in manufacturing environments. Conveyor solutions add value by lowering costs, speeding delivery, and offering higher service levels with greater accuracy, thus provides your customers and suppliers with better control and visibility.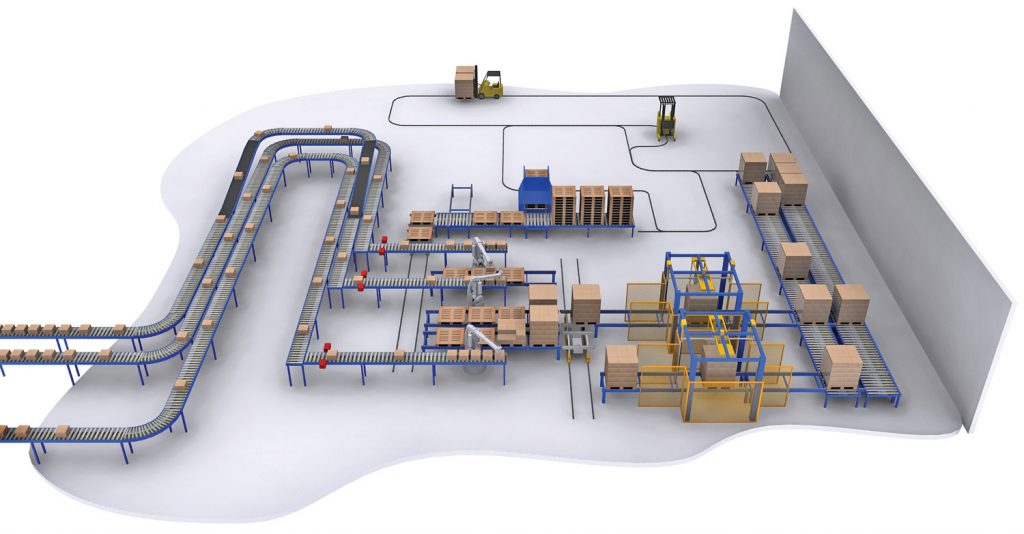 End of Line
As manufactured goods exit the production line, they are packed in cartons or cases for handling and transport. The most efficient way to handle and transport products over distance is by conveyor, and there are a wide variety of conveyor systems to suit different product characteristics and performance requirements.
In developing a production handling system, we design for maximum system uptime using reliable, proven conveyor technologies.
End of line conveyors are an essential link between manufacturing and distribution. They must be fast enough to take product away from production to prevent interruptions, and they must be reliable, as any stoppage quickly flows back to the production line.
Palletising
The high cost of labour and increasingly restrictive OH&S regulations concerning manual handling, make a strong case for automated palletising. It provides reliable, around the clock performance, and can handle individual cartons or full pallet layers of goods in higher throughput applications.
Cartons are usually fed into the palletising system by zero pressure accumulation conveyors which provide a buffer between production interruptions. After the shipping pallet has been palletised, it is taken away by transfer cars and delivered to stretch wrappers where it is prepared for despatch
Unit Load Handling
Storage Ideas provides complete solutions for handling unit loads based on required throughput, pickup and delivery.
Automated pallet conveyors are a fast, accurate and reliable method of transporting unit loads to storage or despatch.
Once the finished goods have been assembled into a palletised unit load, handling options range from manually operated techniques such as pallet trucks and forklifts, through to fully automated solutions such as Automated Guided Vehicles (AGVs), unit load conveyors, pallet shuttle carts and electrified overhead monorails.