Storage Ideas
Order Picking in Warehouse Shelving Design
Order Picking in Warehouse Shelving Design
Proper order picking applications and conveyors are essential for the smooth operation of your warehouse and factory. These systems are one of the most costly elements of your business so its vital to get high quality and relevant ones for your requirements. We have complied a guide below to help you navigate the world of order picking applications and conveyors.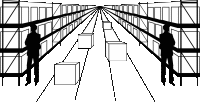 Order Picking Done Right!
Order picking is the process of finding and extracting products from a warehouse to meet your customer orders. It involves significant cost and can affect customer satisfaction levels. That's why it's so important to get it right – have a proper and fully functional order picking system. Many workplaces are now employing smart technologies to assist them with it. For instance, barcode scanning-enabled mobile apps that save time and labour in warehouses.
Colby Conveyors 
Colby conveyors provide valuable material flow solutions, so you'll always have what you need in the right place and in the right time. With a range of conveyors to suit various applications, you can convey your goods horizontally, vertically, around corners, and anywhere else they need to go. Check out our great range below: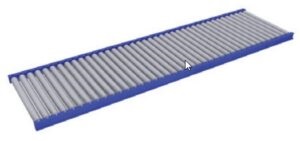 Gravity Roller Conveyor
Available in straight sections that can be inclined so products move by gravity, or installed flat to manually push items, our gravity roller conveyor features a Cleanline side channel for greater safety and reduced OH&S risks. It can handle a variety of products with irregular surfaces. Widths available: 464mm, 616mm, 768mm & 921mm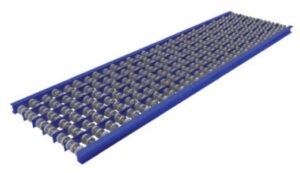 Gravity Wheel Conveyor
The gravity wheel model requires less of an incline than a roller conveyor and can be installed in straight and curved sections. These shelves can be installed flat for manual pushing of items and provide great tracking ability. The strong, lightweight construction means they're easily adjusted or moved if necessary. Widths available: 464mm, 616mm, 768mm & 921mm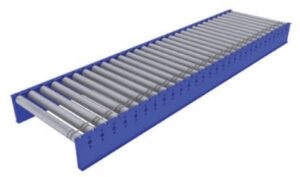 Line-shaft Conveyor
This is a highly versatile conveyor which can run a range of equipment from a single drive, and it's easily configured. It's available on curved beds, junctions, merges and divert beds. Less noisy than many other conveyors, it offers reduced initial and maintenance costs as a result of the fewer drives. Widths available: 464mm, 616mm, 768mm & 921mm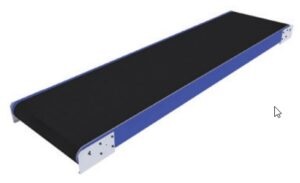 Slider Bed Belt Conveyor
Ideal for moving awkward and irregularly-shaped products over longer distances, the slider bed belt conveyor can handle various load sizes. Providing a stable surface, this economical belt conveyor is fitted with rough top belting and can be used to move goods between floor levels. Widths available: 464mm, 616mm, 768mm & 921mm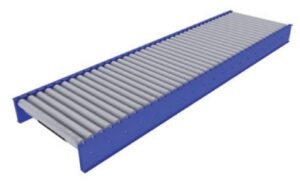 Live Roller Conveyor
Belt-driven, this conveyor efficiently uses a roller bed to move products in cartons, bags, or bundles. The driving force is flat belt and its extra pressure can be used at merge and divert points to keep the flow constant. Widths available: 464mm, 616mm, 768mm & 921mm
Accumulation Conveyor Range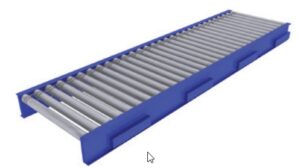 Model 24V dc
Providing true 'zero pressure' accumulation, a motorised roller holds products within each accumulation 'zone'. The 24V dc accumulation conveyor has automatic stop/start without the need for additional air-operated devices such as pneumatic roller brakes and case stops. Widths available: 464mm, 616mm, 768mm & 921mm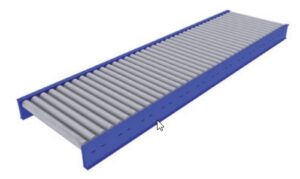 Model 1265
Another zero-pressure accumulation conveyor, it can be used for various applications. Designed to minimise friction, so fewer and smaller drives can power longer runs, it's quieter and more efficient due to its reduced maintenance requirements and lower energy consumption. Widths available: 464mm, 616mm, 768mm & 921mm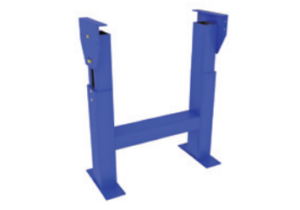 Conveyor Support Assemblies
Conveyor supports are all adjustable and be configured to suit your needs. Made from strong and durable powder-coated steel, choose from floor mounted supports, ceiling supported cantilever supports, and double and triple wide supports for a range of applications. Widths available: 464mm, 616mm, 768mm & 921mm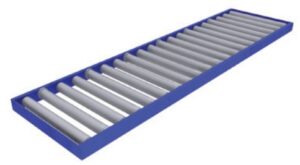 BK25 Smart – Pallet Roller Conveyor
The BK25 Smart pallet roller conveyor can tolerate contaminants such as heat, oil and dirt and its strong construction offers smooth product movement through constant contact between the pallet and roller. Pallets are kept in place by guiding flanges on the supporting rollers.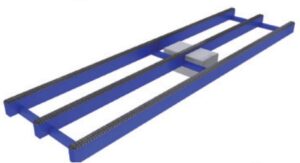 Model T5 – Pallet Chain Conveyor
For operational reliability, this conveyor requires minimal maintenance due to its solid construction. Chain conveyors are used for loads that have a wide bottom that fits across the width of the conveyor. Various strands of chain are provided for positive load location and transport.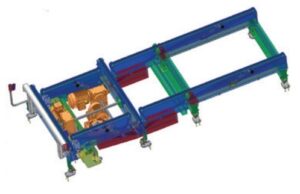 CNN Pallet Conveyor
CNN Pallet Conveyors offer low initial cost along with versatility. Their chain-driven design uses a single drive for the takeaway conveyor and primary transfer, making it an economical alternative to a standard pallet turntable for weights of less than 1000kg.
Let's help make your workspace more efficient and effective. Learn more about order picking applications and conveyors by speaking to our team. Contact us now