Storage Ideas
ColbyRACK Pallet Racking Components
ColbyRACK Pallet Racking Components
Optimum combination of structural performance, durability and cost efficiency
All ColbyRACK pallet racking components are designed and manufactured in Australia from high strength steel. Smart section design including strengthening ribs and reinforcing flanges ensure outstanding safety. Colby invests continuously in product development for reliable racking components. Better products minimise the risk of damage, enhances OH&S, and ensures years of outstanding performance.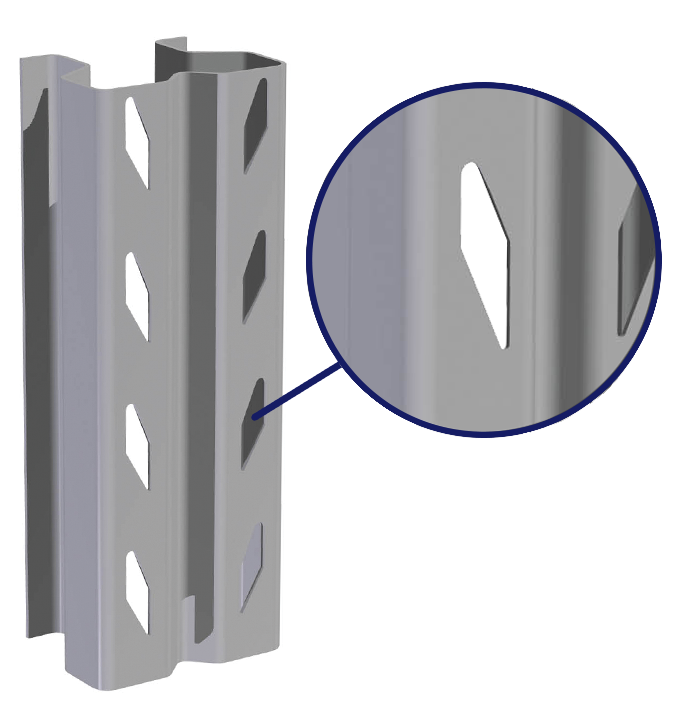 Uprights
High-strength steel and smart section design combine to provide maximum upright strength at minimum cost. A strengthening rib on the front face of the upright, along with reinforcing flanges at the rear, make ColbyRACK Uprights significantly stronger than conventional systems.
The unique diamond-slot profile of ColbyRACK provides a stronger and more efficient interlock between the upright and beam connectors.
All ColbyRACK Uprights are supplied with a galvanised finish to provide long-life performance in even the harshest of conditions. Painted uprights can also be supplied to order.
All ColbyRACK Uprights are available in lengths of up to 11 m, with higher racking being achieved by connecting uprights with a specially designed bolted splice. Uprights are available in a variety of dimensions and material thicknesses to meet different application requirements.

Various beam profiles are available to provide the optimum combination of structural performance, durability and cost-efficiency. These range from the basic "Box Beam" profile, to our patented "UU" beam which has been designed for increased frontal impact resistance.
ColbyRACK beams are also available in many lengths, with standard sizes including 1370 mm, 2590 mm, 2740 mm and 3050 mm.
All ColbyRACK Beams are made from quality-assured, high-strength steel, and are finished using an electrostatically applied powder coat paint, which creates a durable, hard wearing finish. The standard beam colour is orange but special colours can be manufactured subject to quantity.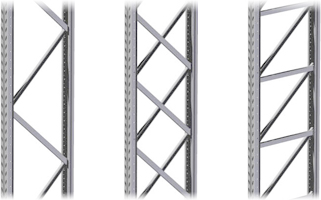 Uprights are bolted together in a variety of configurations using bracing to create rack frames. Three of the most commonly used bracing patterns are K, X and Z bracing, with K being the standard for light to medium-duty applications and X bracing more appropriate for heavier-duty loadings.
Connectors & Clips
Colby's 4-tang end connector provides improved stability under even the most demanding of loading conditions. It is stiffer and stronger than a 3-tang connector, resulting in improved beam and frame load-carrying capacity. 3-tang connectors are recommended for light-duty and open section beams only (see beam sections above).
An additional safety feature of Colby Beams is the use of our patented Cobra Clips at each end of the beam, which lock the beam into place preventing accidental dislodging.