Storage Ideas
Raised Storage Areas, Structural Floors and Multi-tiered/ Pick Modules
Raised Storage Areas, Structural Floors and Multi-tiered/ Pick Modules
Your warehouse's efficiency will be greatly increased with raised storage areas, structural floors and multi-tiered pick modules. These can all be customised to suit your own industrial needs. Keep reading to find out more about these intelligent and highly practical storage solutions.
Raised storage areas can double the usable floor space in your storage areas. They're safe, secure and an economical mezzanine solution that offers easy access to overhead work spaces without disrupting your ground floor work processes. Significantly increasing the capabilities of your current work area, raised storage areas can be all that's required to avoid a costly and time-consuming relocation.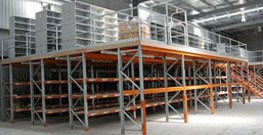 Complying with strict Australian design standards, they can be easily combined with other components like stairs, conveyors and pallet gates. We offer the following raised storage areas:
Medium-Duty Flooring Systems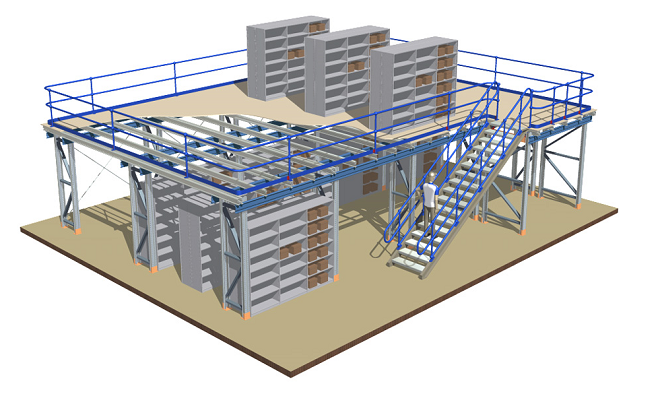 Economical, additional space made from pallet racking components.
These flooring systems deliver unlimited options for you to utilise valuable overhead space in your warehouse. :
They offer the main benefits:
Economical

Operational flexibility (seamlessly integrate shelving & racking systems)

Optimal decking support structure

Optimal decking options as floors can be designed and delivered in a range of decking materials (plywood, particleboard or steel grating.)

Include stairs, guardrails, safety signage, treads etc

Fire protection equipment like sprinkler & smoke curtains can be mounted easily under your floor
Heavy-Duty Flooring Systems
These flooring systems are fully bolted in their construction and have been developed to enable more column-free space with a greater load capacity. They offer the main benefits:
Cost effective (makes use of fewer components)
Reduced installation time
Sigma beams are optimised for structural performance, cost and durability
Sigma beams are made in Australia from high tensile steel, with a galvanised finish.
Bracing for added stability
Increased aisle width
Bolted structure support (structure of support beams is bolted together using standardised brackets)
Decking options (plywood, particleboard or steel grating)
Stair, guardrails and OH&S (including stairs, treads, barriers and handrails)
Smoke curtains can be included if necessary
Easily reconfigured (all structural connections being bolted or screwed)
Structural Floors
These allow businesses to expand their existing spaces by utilizing warehouse clear height to meet changing requirements without relocation. Book a comprehensive service that covers all aspects of the project, from initial free site survey, through to computer aided design, manufacture and installation.
Multi-tiered/ Pick Modules
These are complex and varied in design. They can be designed from heavy duty modular shelving range (light weight with high strength). These structures can be fully complemented with accessories like shelf board dividers, fixed height dividers, hanging rails and drawers. They can also be supplied with either timber or metal decking.
Storage Ideas will take care of all your raised storage areas, structural floors and Multi-tiered/ Pick Modules requirements. Contact our team today and let us craft the perfect solution for your business.