Colby Drive-In Rack maximises the use of your valuable warehouse space and is a low-cost, versatile solution for high-density pallet storage.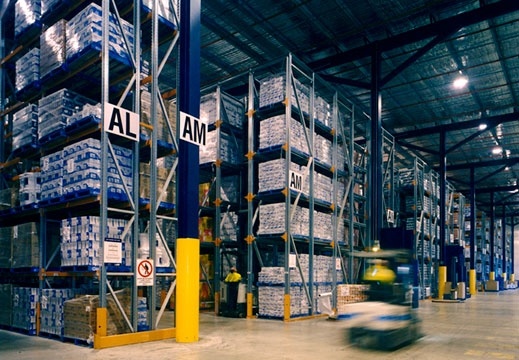 Designed and manufactured in Australia by Dematic, Colby Drive-In Rack can be tailored to meet your individual needs depending on pallet configuration and load and warehouse design requirements including product range and stock movement rate as well as the type of materials handling equipment.
Cost-effective Design
Colby Drive-In Rack's design has been optimised by our highly qualified team of structural engineers to use stronger and bigger structural components. And through clever design, fewer components are used, so cost is reduced and you pay for less material, without compromising on capacity or safety.
Available through Colby Central, our designer's use sophisticated design software, "Rackman", to configure the best and most cost-effective solution ensuring safety integrity and compliance with Australian and International design standards.
Heavy-duty bracing connects symmetrically to the big strong racking upright, increasing strength and load-carrying capacity. Colby Drive-In Rack systems also include innovative, one piece, formed cantilever brackets that wrap securely around the upright. These are available in double sided or single sided applications
Fast & Easy Installation
Colby Drive-In Rack components are standardised and there are fewer of them, making installation quick and simple.
Flexible & Versatile
The modular design of Colby Drive-In Rack is highly configurable for individual needs, and single-sided cantilever brackets even allow for different pallet levels in adjacent bays. A variety of forklifts including counter-balanced and reach trucks can operate effectively in Colby Drive-In Rack
Safe in All Conditions
All Colby Drive-In Rack solutions incorporate a complete, integrated system of safety elements designed to provide good conditions for safe work practices and increase the life of your storage system.
Backstops are positioned at the end of the storage rails to prevent pallets from being pushed too far into the racking, reducing potential damage to spine bracing.
Heavy-duty, purpose designed floor channels help to guide forklifts into Drive-In Rack bays, making pallet alignment quicker, easier and safer, as well as reducing the risk of rack damage.
For added protection, our patented Colby Protect-a-Rack wraps around the base of the racking uprights. Their angled profile deflects impacts, minimises damage and maximises clear bay entry.
Colby is one of Australia's best known and respected brands of innovative, high quality storage solutions.