Even the best forklift drivers have accidental collisions with racking. While worst-case scenarios involving a rack collapse are rare, impact damage weakens the racking structure, compromising its load carrying capacity and potentially putting both property and life at risk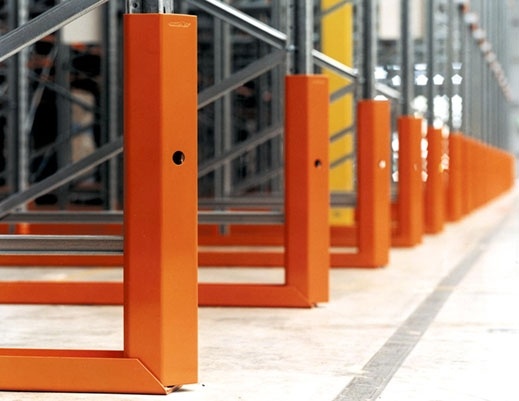 Protect your business and your people with Colby Protect-a-Rack. Designed and backed by industry giant Dematic, the Colby Protect-a-Rack can be fitted to just about every competing brand of drive-in or selective pallet racking.
Colby Protect-a-Rack is certified and patented and outperforms traditional steel and plastic rack protection systems. It does this through clever design that ensures that impact forces are transferred into the rack at its strongest point i.e. the brace nodes. The Colby Protect-a-Rack is unique, innovatively designed and is easy to install.
Benefits of Colby Protect-a-rack:
Heavy duty steel ensures long life and heavy duty protection
Versatile design fits almost any type of racking
Simple, fast and cost-effective installation
Streamlined design maximises clear bay entry
Tapered surfaces deflect impacts and simplify bay entries
Provides side and rear upright protection as well by wrapping around upright
Bolted to upright eliminating need for masonry anchors
Reduce the potential for OH&S hazards and minimise your ongoing rack maintenance costs with Colby Protect-a-Rack.